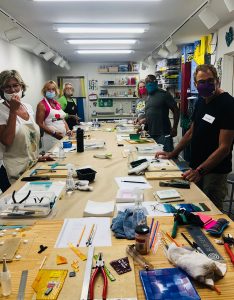 To celebrate its recent reopening and debut of the newly renovated School of Art, the Lighthouse ArtCenter in Tequesta will host in-person Fall Session classes and creative experiences beginning Monday, October 19 to December 19. The eight-week sessions will take students through courses in ceramics, drawing, fused glass, jewelry and metalsmithing, mixed media, painting, photography and sculpture. To keep things creative and socially-distant, the ArtCenter will also host outdoor painting classes under the new chickee hut.
For artists looking to drop in on classes, the ArtCenter will host a Fabulous Bracelets workshop with Lisa Johnson on Friday, October 30 from 6 to 8 p.m. Jewelry-makers will use gold-filled square and sterling silver round wire to explore linear forms, wrapping techniques, and tension clasps to develop unique pieces. Demonstrations will include use of the round nose and chain nose pliers, measuring your bracelet for a custom fit, and finishing techniques. Students are encouraged to order their supplies a week before the workshop.
In addition to the Fall Session classes and workshops, creatives of all levels can participate in "Select Fridays" workshops on Friday evenings through April 2021. The upcoming workshop will revolve around Glass Fusion, where students will create fused glass art plates and learn the fundamentals of glass fusion with instructor Carolyn Austin (October 9 and 30; November 20; December 18; and January 8 from 6 to 8 p.m.).
Facebook Comments