When Lauren and Christian Thomas entertain in the backyard of their Jupiter Inlet Colony mid-century modern ranch house near the beach, the relaxed, barefoot vibe feels like home in the best sense of the word.
The couple, who grew up in the area—she in Juno Beach and he in Jupiter—are intensely creative and passionate about the life they share with their two children in this idyllic, tiny municipality at the southern tip of Jupiter Island. On a crisp, clear day in March, they sit outside at the long teak table adjacent to the pool sipping margaritas and espresso while their flowered shar-pei, Simon, snoozes under the table. "There's such a laid-back feeling to life in Jupiter," says Lauren of their indoor-outdoor lifestyle. "Today, I have no shoes on, and I like leaving the sliding glass doors open and feeling the air from the ocean and seeing the kids go in and out of the house all day."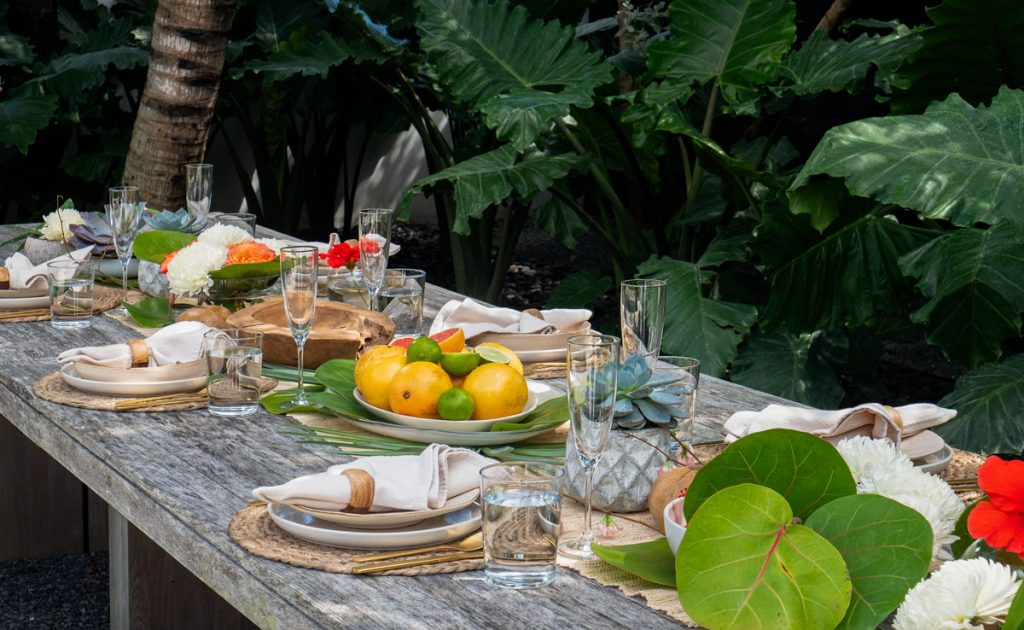 On this particular day, the soothing strains of a John Coltrane LP spinning on the custom-crafted walnut console in the living room filter out to the yard, as the Thomases sit for an alfresco lunch prepared by Lauren. Today, she is serving a family favorite: cilantro-lime rock shrimp tacos seasoned with her own blend, drizzled with homemade cilantro-lime sauce, and topped with shredded green cabbage and Cotija cheese. She has also created an artfully arranged charcuterie-style plate of cubed cheeses, nuts, and fresh fruits like kiwi and grapes. The table is an effortless tableau adorned with greenery, colorful fruit, and fresh flowers from the yard. After lunch, 16-year-old Ella gets ready for a volleyball game, as 12-year-old Brayden helmets up, grabs his board, and skates the ramp he helped his dad build in the yard.
Through her Instagram and website, as well as an upcoming lifestyle book that focuses on cooking, table design, and entertaining, Lauren shares her inspiring vision of domestic bliss and artistry on this island enclave. Music, food, flowers, and decor work in concert to set the stage for stimulating conversation and memorable gatherings, whether it's just Lauren and her husband, the entire family, or an intimate gathering of friends. Ask how often she entertains and she answers, "Every day."
Christian, an architect and co-owner of Jupiter-based Thomas Melhorn, which specializes in bespoke residential homes in and around Jupiter (one of his homes is featured in a recent edition of Architectural Digest Italy), is responsible for the physical setting of their idyllic life. He transformed their 1958, approximately 2,000-square-foot home into an oasis that is reminiscent of life in the 1950s and 1960s, when the goal was to enjoy life's simple pleasures at home with close-knit family and friends. Their combined talents mesh well, Lauren notes: "Christian's specialty is creating space; mine is making people feel special when they come to our home."
Beach-lover Christian says he discovered Jupiter Inlet Colony when he surfed in the area as a teen and, from then on, decided that this was the ideal place to live. After graduating from Auburn University, he met Lauren, a University of Florida grad, through their fathers, who worked in the same office. Ten years later, the two married at BallenIsles Country Club in Palm Beach Gardens—and in 2012, they finally had the opportunity to purchase their dream home in Jupiter Inlet Colony.
From the beginning, Christian's plan for the design was clear. "We wanted to strip it back to the architect's original vision and open it up to the outside," he says. But beyond creating a clean, open, mid-century aesthetic, he and Lauren envisioned a true family home that suited their Jupiter lifestyle—where nothing is off-limits, and everything improves with age and wear. Christian covered the walls with Thomas Melhorn's proprietary white wax plaster, which develops into a patina with age and never needs to be painted. The furniture is a mix of vintage and custom, much of it upholstered in white, which doesn't deter them at all. "This was designed to be a beach house at the end of the day," says Lauren. "A lot of people see the white furniture and think it's untouched, but we live on it." Adds Christian: "This is a small house, and every inch is designed to be lived in. There are scars, but in a good way—like the place where Brayden ran his skateboard into the wall. Nothing is too precious to use because, ultimately, your family is most precious, so why would you hold back?"
Memories in the making of a rich family life are everywhere. Ella's favorite part of the house is the living room and its stereo console. "My dad and I come out here at night and, instead of watching TV, we listen to records," she says. Hanging over the kitchen table, sheets of rice paper inscribed with love notes in different languages and messages and drawings made by family and friends sprout from a paper chandelier by artist Ingo Maurer. "We rotate the messages every once in a while," says Christian as he unclips a drawing by a very young Brayden and then, laughing, puts it back. "I have to keep this one up."
Outside, when they're not plunging in the pool or perfecting a frontside 180 on the skate ramp, the family is likely at the beach, a three-minute walk from their home. Christian surfs and kitesurfs, Brayden skimboards, and Lauren enjoys morning beach walks with Christian and Simon. Ella and her friends like to hang out at the private Jupiter Inlet Beach Club, where Christian volunteers to oversee the grounds and exterior of the two-story building.
This foundation of an active, community-centered family life has served them well during the COVID pandemic and, in fact, Lauren feels it has reinforced their quality-over-quantity mantra and brought them closer to what's important—like family mealtime. "I feel a deep family connection happens over meals," she says. "I think the kids appreciate every night when we're all a family together, so I make a big deal of it. Food is my love language. I want to raise kids who have felt the love of being cared for."
Time at home is precious because during the school year, the kids are in perpetual motion: Brayden, a sixth-grader at The Pine School in Hobe Sound, runs cross-country and plays lacrosse. Ella, a sophomore at The Benjamin School in Palm Beach Gardens, plays varsity volleyball and is also on the travel volleyball team. When they are hanging out at home, there are often friends with them—the Thomas home is a coveted gathering spot, and for good reason. "Whenever my kids' friends come over, I bring out whatever I have in the cabinets," says Lauren. "It could be cookies and popcorn, or I might make tacos."
Her talent for setting the stage, which she says comes naturally, was so well-received on her Instagram account that she decided to expand her brand with a lifestyle book (to be published late 2021/early 2022) that showcases her flair for casual, beachy entertaining. "I love inventing, using a night or a meal as a blank canvas and with kids running in and out of the house, jumping in the pool, or playing lacrosse in the yard," she says. "Even when it's just my husband and me, I try to make it fun and different. I don't want to just open a can of beans. My goal is to inspire people to find joy in the art of cooking see that there's beauty in it."
Both Lauren and Christian are dedicated to nourishing the roots they've planted in Jupiter and protecting the type of small-town life that is vanishing in many parts of the country. A local history buff, Christian intentionally set up his office in Jupiter's historic downtown, on Town Hall Avenue, and is devoted to preserving the area's rich history. He and Lauren love to ride bikes across the bridge to local restaurants and support small businesses in the area. But there's nothing quite like the feeling of coming home to their haven in Jupiter Inlet Colony. "As soon as you cross the bridge to the island, it feels like an escape," says Christian. The iconic lighthouse is a welcoming beacon—literally and figuratively. "At night, the beam sweeps right over our house and reminds us that we live in this truly special place."  
Facebook Comments