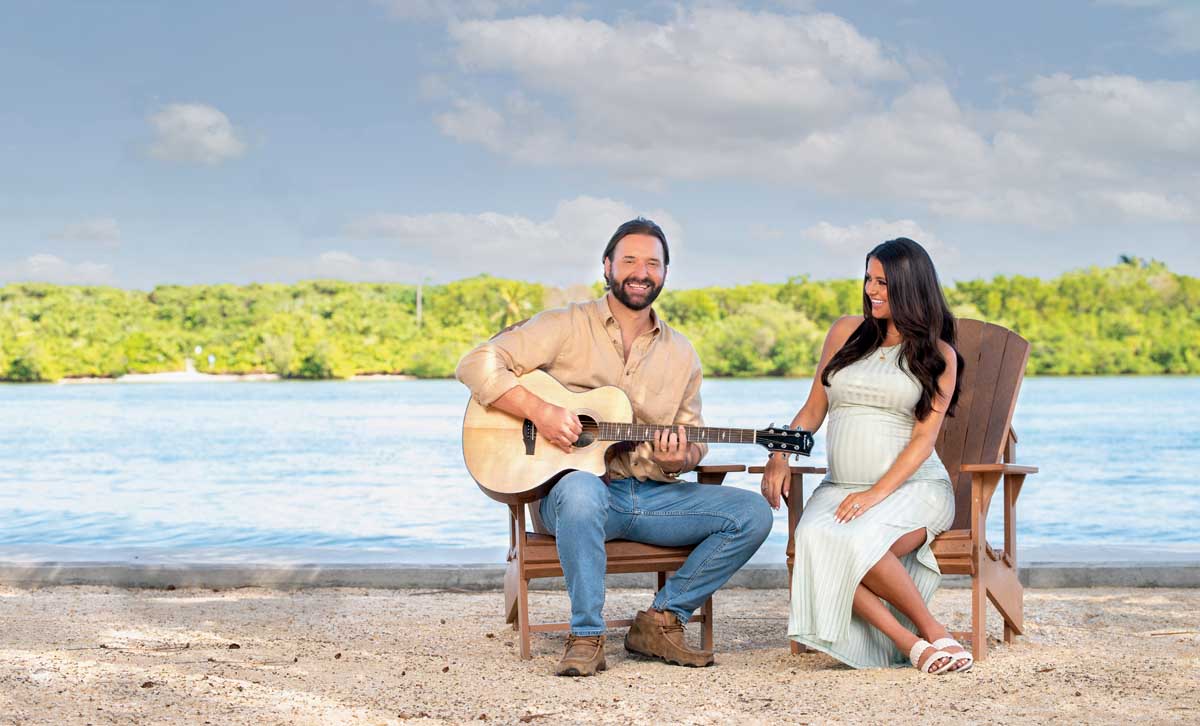 As with many stories these days, this one starts with a pandemic and a leap of faith. At least that's how two of Jupiter's newest residents tell it. 
After living in Nashville for the better part of a decade, country musician Ricky Young and former SiriusXM radio host MC Callahan-Young knew they were ready to move on to a slower pace post-COVID. All they needed was a place to go. "We were thinking somewhere with a tropical feel but not touristy," MC recalls. They decided to visit South Florida, but Jupiter wasn't really on their radar at the time. "We started looking at a map, and I saw Jupiter," she says. "I had never been there, so we decided to check it out."
They spent four days at Jupiter Beach Resort, visiting local hot spots and dining at places like PapiChulo, 1000 North, and U-Tiki Beach. "On our second day, we're sitting at Square Grouper, and high tide was bringing in that unbelievable Caribbean blue water," recalls Ricky. "And we're like, 'Where in the world are we right now? This place is unbelievable!'"
Within four months, the couple sold their house in Nashville, left successful careers in country music behind, and settled into a new chapter of life in sunny Florida.
They rented a house off Center Street (near Jupiter Donuts) in April 2021, and six months later they closed on a home on the Jupiter-Tequesta border and began renovations on the new property. Last April, they finally moved into their new home, with renovations still underway. "Ninety percent of our friends and family back home had never heard of Jupiter,"
MC says. "They really thought we had lost our minds." Ricky continues: "What they didn't realize was that it was the smartest move we have ever made. This is the happiest I've ever been by far." 
Born and raised in South Carolina, Ricky learned to play guitar while attending church camps as a teenager—admittedly, to attract girls. He was childhood friends with country singer/songwriter Lee Brice, and it was Brice who prompted Ricky to start strumming. "Lee had this circle of girls around him, and I was like, 'No way, teach me how to play!'" recalls Ricky. "I was 17 when I first picked up a guitar, and I was writing songs in the first year." 
It was his lifelong love for baseball, however, that he chose to pursue—first as a University of South Carolina player and later as a minor league umpire. But music was always top of mind. "I would go to every open mic night I could find in every town I umpired in," he says. "Music was my side gig."
It wasn't until 2012 that he decided to focus on music, moving to Nashville on the urging of Brice, who had been enjoying success in the country scene there. "He was kind of my mentor if you will," Ricky says. "He said, 'Come hang out in the music crowd, start playing songwriters rounds, meet as many people as you can, and then go on tour and try to build a fan base.' That was my one-page manual on how to make it."
And it worked. He started opening for country superstars like Eric Church, Reba McEntire, and Blake Shelton and eventually released three albums (Spinning My Wheels, Feels Damn Good, and Shock Moves) and eight singles over the years. "You have this picture of what the music industry is going to be like before you move to Nashville, and it feels like it's going to be so intimidating, but it was the exact opposite," Ricky says. "It felt just like small-town people living a fairy-tale music life."
Just a year into his Nashville life, Ricky met MC. Both were in Las Vegas attending the 2013 Academy of Country Music Awards. Ricky was there to celebrate his friend Brice's first number-one single; MC was in town for work, interviewing musicians for the GAC television show Headline Country. After the awards show, Ricky and his crew met up with a group of Nashville friends at the MGM Grand, and MC was there—the two had mutual friends. When the group headed out to get tattoos, both Ricky and MC opted not to go. "We decided we didn't want to go to a tattoo parlor since neither of us has tattoos, so we stayed up playing blackjack the rest of the night," says Ricky. "I always say, 'I lost all my money that night, but I still hit the jackpot!'" 
MC (which stands for Mary Carlisle) had grown up in Alabama and been living in Nashville since 2011. After graduating from the University of Alabama, she worked as a producer for Headline Country, and during that time she met and befriended the show's host, Storme Warren. That's how she ended up becoming a cohost of the most popular radio show in the world. 
"Storme also had a morning radio show on SiriusXM's The Highway channel, The Storme Warren Show, and his cohost was leaving," MC says. "I had never had a gig in radio, but I got the job and took that show from number  three on SiriusXM to the number-one radio show in the world two years later. Our bosses said it would be almost impossible to pass Howard Stern, but we did."
As a cohost and producer from 2017 to 2021, she interviewed musicians like Dolly Parton and Sam Hunt, while simultaneously settling into life with Ricky. The two had started dating after meeting in Vegas, and in 2017 they married in Nashville at the Country Music Hall of Fame. When their hectic lives caught up with them, and the pandemic caused them to rethink their life choices, they decided to make some major career changes. "We wanted to start a family soon, and I knew I couldn't be a good mom and a morning show host on SiriusXM, so it was just time to move on to the next phase of life," MC says.
There was just one unforeseen glitch in their plan to take it easy and live the good life as early retirees in Jupiter. When a neighbor found out Ricky was a musician, she asked him if he wanted to play a gig at Square Grouper. He agreed, thinking it would be a fun night—and wound up playing a New Year's Eve show at Grouper, followed by 29 more gigs around town over the next three months. And he enjoyed every minute of it.
"In the first three or four months of playing in Jupiter, I learned that people are genuinely happy here," he says. "It was nice to eliminate all the stress of the business stuff and just play music and watch people have fun. I don't want the life I had in Nashville, but I still want the music to live on a little bit, at least the way that it is now." 
After playing all over the Jupiter live music circuit, he has now settled into a regular gig at Tiki 52 on U.S. Highway 1, where he plays three- to four-hour sets every Thursday and Saturday at 6:30 p.m. His music touches many genres including country, pop, and classic rock covers, and he loves to tell fun tales about his life and career in Music City between songs. If you've ever been to one of Ricky's shows, you may have heard about the time he opened for his music idol, Darius Rucker, joined him for a whiskey shot, and then played a verse of "Family Tradition" with him on stage—on his birthday. Or about the time he played a songwriters round in Nashville with then-newcomer Luke Combs. 
"Luke played his first song, and I looked over and thought, 'Man, this guy is good—I'm glad he's singing after me,'" Ricky recalls of the 2015 tour that led to a songwriting collaboration with Combs. "We finished our songs and came off stage and I said, 'I've got a full tour right now, and a bus and a band, and we've got extra space if you want to come out this summer and play.' So I was the first guy he went on the road with, which is just nuts."
His touring days are over as he settles into his new life with his growing family in Jupiter (at press time, MC was expecting a baby due in January). But his music hasn't slowed down—far from it. Locals have embraced Ricky and his lively performances, singing along and seemingly knowing every lyric by heart. In October, he released a new song—an ode to his new hometown called, appropriately, "The Jupiter Song." It's a fan favorite for sure, a hit that climbed to number two on the iTunes Top 100 chart the day it was released. 
"If you listen to the lyrics, it sounds like I'm talking a lot about music," Ricky says of "The Jupiter Song," for which he hopes to release a music video this month, along with an album in the works. "It probably has one percent to do with music and everything to do with finding the place you're supposed to be, taking a chance, and really trying to find your true happy place. We absolutely did that when we moved here."
MC is often at his gigs, supporting her husband and singing along with the crowd. "There's just so much energy," she says of his performances. "He wants the crowd to be right there scream-singing back at him. Everyone's doing shots, and he's just having the best time ever." 
MC has also found much joy living in Jupiter, from fishing to painting (she's a talented artist and has sold her work on occasion) to enjoying the local golf courses (she was a state-ranked golfer in high school). She is hoping to dip her toes into the local real estate market in search of properties to renovate, design, and rent or flip. While living in Nashville, the couple owned a company that oversaw more than 100 properties in New Orleans, Austin, Nashville, Louis-ville, and Charlotte. "She's a very good designer," Ricky says of his wife. "She'll probably tell you the opposite because she wouldn't brag about herself, but she's awesome."
The doting parents of two rescue beagle-basset mixes—Minnie Pearl and Patsy Cline, whom they love to take for walks along the Intracoastal near their home—can't wait to welcome their first child, a baby girl. To say they're excited is an understatement. Ricky is embracing the fact that he is still going to be the only male in the family (including the dogs), and MC is over the moon about raising a daughter. 
"One moment that will always stick out to me when we first moved here is, we were sitting at the park and we saw this boat of six girls, probably 14 or 15 years old," recalls MC. "There was something so cool about this group of young girlfriends out there—one driving the boat, another wakeboarding, music blaring…. That was right when we found out we're having a little girl, and I thought, 'I want my daughter to be that: independent, happy, and loving life on the water.'"
Adds Ricky: "If you ask me what I want to do with the rest of my music life, the answer is spread joy and happiness. And now that we have a little one on the way, getting to start that chapter down here feels like a dream."
Livin' La Vida Local
Ricky and MC share some of the favorite spots they've discovered since moving to town
Grab a beer: Square Grouper at high tide
Shop: Blueline Surf and Paddle Co. (Ricky); Sand by Lola Dré for clothing and Outside the Box for furniture and home goods (MC)
Listen to live music: Tiki 52, of course!
Worship: Generation Church
Brunch: Gallery Grille
Date night: Lucky Shuck Oyster Bar & Taphouse
Walk the pups: Mangrove Island, just north of Cato's Bridge
Beach: Coral Cove Park
Facebook Comments