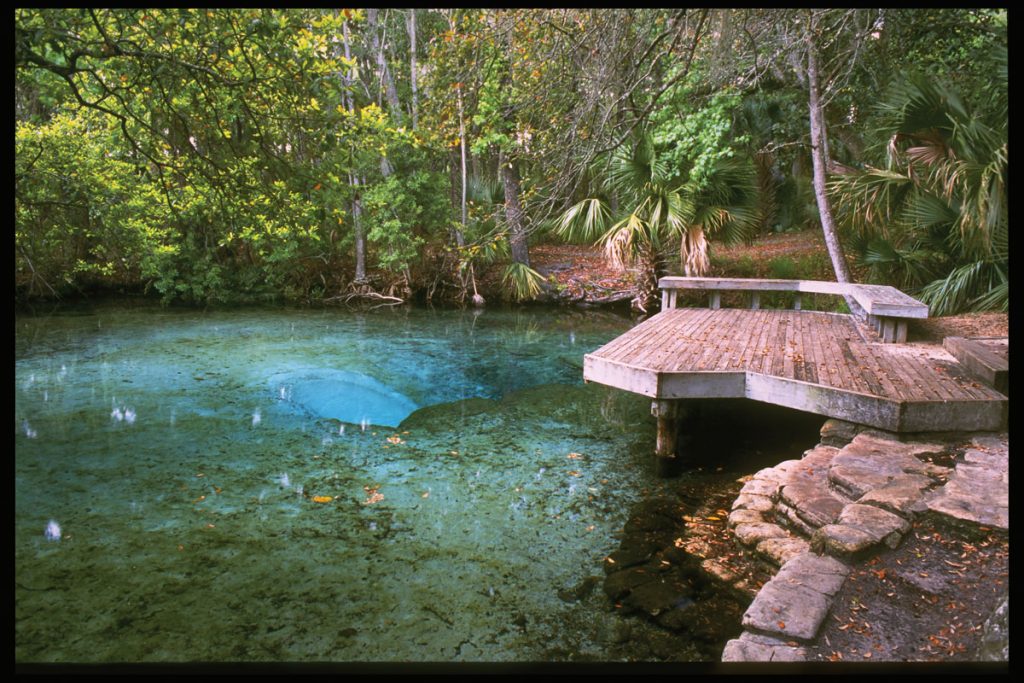 Go off the Grid: Ocala National Forest 
Experienced campers and those with a taste for adventure can head to the Ocala National Forest, about 230 miles north of Jupiter, for full immersion into nature.
The forest (the southernmost in the continental United States) has dozens of places to camp scattered throughout its 673 square miles, from full-service campgrounds to tent camping and even a few cabins. But to venture into the true heart of the wilderness, visitors should make camp at Davenport Landing (or wherever else in the unspoiled expanse their compass leads them).
Once a stop for steamboats chugging down the Ocklawaha River, today Davenport Landing offers three primitive campsites where explorers can commune with nature, free from disturbances. Dispersed camping within the Ocala National Forest means there are no services or facilities available, so only those with nature knowledge and survival skills should attempt.
Before you go, know the basics of bear awareness, campfire regulations (and how to properly extinguish fires), waste disposal methods, and considerate camping etiquette. Pick a previously used site to minimize disturbance to indigenous flora and fauna, and as you forage for materials to start a fire, collect only dead or downed trees; cutting live trees for firewood is prohibited (and harms Mother Earth). As always, make sure to leave no trace.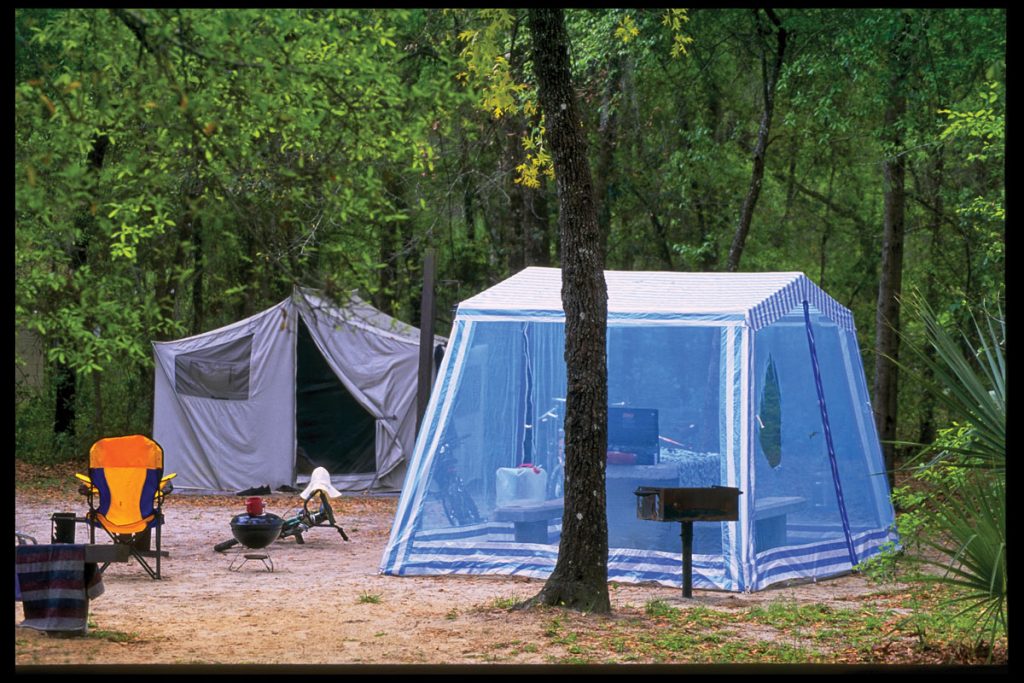 During your stay, consider exploring highlights like the Yearling Trail, which passes not only a sinkhole but also the remains of nineteenth-century pioneer homesteads. There are also more than 600 lakes, rivers, and springs to enjoy. The most popular are the tantalizingly blue, mind-blowingly clear waters of Silver Glen Springs, Salt Springs, Juniper Springs, and
Alexander Springs, where you can swim, snorkel, and even dive (the water remains a constant 72 degrees Fahrenheit).
Primitive camping in the Ocala National Forest is free; cost varies for developed campgrounds. Visit the website for more information about your chosen area of the forest. 17147 FL-40, Silver Springs (forest headquarters at the Lake George Ranger Station); fs.usda.gov/ocala; 352.625.2520 (information); 877.444.6777 (reservations)
Get Your Glamp on: Westgate River Ranch Resort & Rodeo
Interested in the adventurous spirit of camping but not so keen on roughing it? Book a glamping teepee at Westgate River Ranch Resort & Rodeo, about an hour and a half drive from Jupiter.
The spacious canvas teepees are permanent fixtures, installed on platforms in a wooded area. Each is fully furnished and air-conditioned but still offers the rugged feel of camping—albeit with luxury linens and a nightly campfire lit for you by the staff. A private bathroom facility with a shower is located a short walk away. With names such as Roaming Buffalo and Soaring Eagle, the teepees are modeled in an authentic Native American style and furnished with rustic touches such as stone fireplaces, cowhide furniture, and cast-iron claw-foot tubs.
The 1,700-acre ranch is also launching two new options for camping in style this month: luxe Conestoga wagons, which sleep up to six in a 495-square-foot replica of a traditional eighteenth-century covered wagon, and luxury glamping tents, which differ from the standard teepees in that they are larger and have full en suite bathrooms.
While the accommodations are a deliciously swanky take on rustic charm, arguably the biggest draw of a stay at River Ranch is the Saturday night rodeo, where athletes from across the region compete in trick riding, barrel racing, and bull riding. Grab a prime spot in the 1,200-seat arena to experience just how much suspense eight seconds can pack. (If you feel inspired after the show, you can try your hand at the sport on a mechanical bull. Yeehaw!) Other outdoorsy activities available on-site include archery, horseback riding, airboat rides, a petting farm, golf, trap and skeet shooting, fishing, a zip line, and bungee jumping.
Camping rates for Conestoga wagons start at $759 (weeknights for a family of six); luxury teepees begin at $379 (weeknights for a family of four). 3200 River Ranch Blvd., River Ranch; 863.692.1321
Keep it Local: Jonathan Dickinson State Park
You don't have to drive far for some of the best camping the Sunshine State has to offer. In Hobe Sound, outdoors enthusiasts will be thrilled by the 16 different natural communities—including rare environments like coastal sandhills, upland lakes, and scrub forests—of Jonathan Dickinson State Park. At 11,500 acres, it's the largest state park in Southeast Florida and happens to be the closest campground to Jupiter.
Overnight options include family, group, primitive, and equestrian campsites. Those looking for a traditional campground experience can make reservations at Pine Grove, located near the ranger station on the east side of the park, or the 52-site River Campground, located about 4 miles from the park entrance. Both have restrooms with hot showers,
a washer and dryer, water, electricity, a table, and a grill.
Aside from camping, activities in the park include horseback riding, fishing, wildlife viewing, bird-watching, peddling Camp Murphy's 9-mile network of mountain bike trails, paddling the Loxahatchee River, and even hiking—the ancient sand dune known as Hobe Mountain, which towers 86 feet above sea level, is the highest natural point south of Lake Okeechobee.
At the Elsa Kimbell Environmental Education and Research Center, visitors
can learn about the park's natural and cultural resources through interactive displays. And ranger-guided tours of the 1930s homestead of Trapper Nelson—the legendary "wild man" of Loxahatchee lore—are available year-round aboard the Loxahatchee Queen pontoon.
Camping at Jonathan Dickinson costs $26/night for tent camping (includes water and electricity), plus tax and a $6.70 reservation fee. If you're hesitant to spend the night in nature, you can book one of the park's 11 furnished cabins for $95/night (November through April), $85/night (May through October). 16450 SE Federal Hwy., Hobe Sound; 772.546.2771
Gear Up
Essentials to make your camping trip more comfy

Constructed of corrosion-resistant aluminum and fabric that wards off fading and mildew, this 4-Piece Ultra Light Picnic Chair and Table Set folds neatly into a backpack.
$150, West Marine, Tequesta

A Secur Waterproof Solar Dynamo LED Flashlight will make nighttime potty walks much easier. $19.99, Sportfish Outfitters, Jupiter

The Yeti Tundra Haul Hard Cooler has wheels, making it a lot easier to trek to your campsite. $400

The Sea to Summit Trailhead ThII Long Sleeping Bag can also open flat and be used as a blanket. $159, Peter Glenn Ski & Sports (Don't forget to pair it with a comfy foam pad like the Therm-a-Rest Z Lite SOL, $44.95.)

The Mountain Hardwear Mineral King 3 Tent is a solid three-person tent that's lightweight, waterproof, includes a footprint (ground tarp), and has a roll-back fly to reveal a mesh upper canopy for optimal ventilation and beautiful starry views. $300

Make your adventure eco-friendly with reusable materials such as UnPaper Towels ($30), Snack Bags ($32), and Bamboo Utensils ($15), One World Zero Waste, Tequesta
5 Camping Musts
Hobe Sound resident Benji Studt not only works for Palm Beach County's Department of Environmental Resources Management, but he is also an avid explorer and a conservation photographer. Here, he offers some good advice for newbies.
Start slow. If you're new to camping, pick somewhere relatively close to home and plan to camp for one or two nights max. Go when you know the weather will be reasonable, which is generally November through late April.
Eat smart. Keep meals simple with breakfast bars, a bottle of cold brew coffee, and lunch meat/cheese for sandwiches. Ahead of time, make a side that will travel well, like pasta salad. Easy dinners include burgers, hot dogs, or sausages to grill. Also, be sure to store food and trash properly to avoid attracting wildlife. This means keeping food locked in your car or in a secure cooler (bears can open cheaper coolers with flimsy latches!). Food waste and trash should also be locked away, thrown in a campground dumpster, or hung on a waste post at your campsite.
Practice your setup. Take your tent out of the packaging and try setting it up in your yard at home so you're not struggling to figure it out at your campsite. And invest in a decent screen enclosure, like the Quick-Set by Clam. Bugs are going to happen.
Always have fire. At the end of the day, fire is essential to the vibe of camping. Studies have shown that seeing, hearing, and smelling a wood fire is inherently soothing to humans—not to mention you need it to cook and be warm. There are countless methods for making a fire—just search YouTube. Be sure to bring paper and lighters, and of course, practice at home in a firepit or grill before you head off for your adventure.
RETIRE EARLY. Part of the joy of camping is waking up to soft light and an alarm clock of birdsong and chattering squirrels shortly after sunrise. One or two adventures a day is plenty and will allow you to get back to camp before sunset so you can get your fire started and enjoy dinner, as your natural circadian rhythm tells your body it's time to get into that cozy sleeping bag.
Check out Studt's amazing nature photography on Instagram: @benjistudtphoto 
Facebook Comments