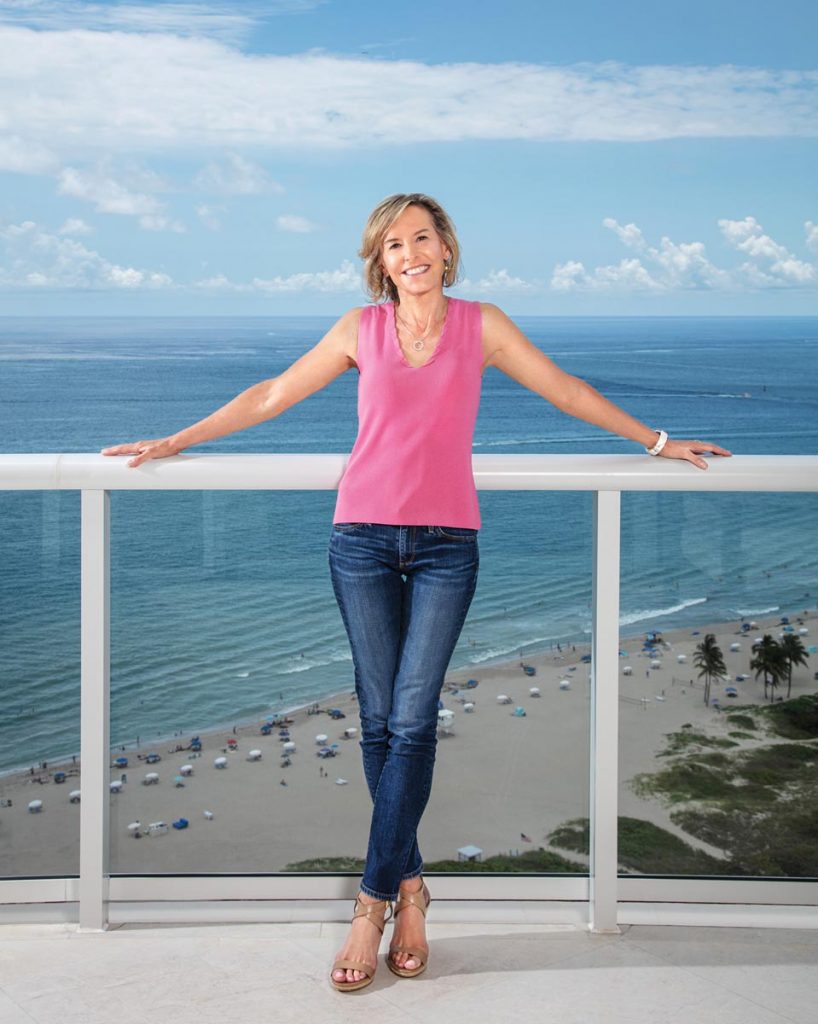 Throughout her career as an Emmy Award–winning television news journalist, Randi Kaye has flown with the Blue Angels, witnessed the devastation wrought by Hurricane Katrina, and covered high-profile murder trials. Although her work brings her all over the country, it's Florida where she feels most at home and engaged. "There's so much news here," says the Singer Island resident. "Florida Man is always busy. I like that I can just get in my car, drive down the road, and start reporting." 
Born in Yonkers, New York and raised in New Jersey, Kaye comes from a family of four children, whose parents were a kindergarten teacher (mom) and an executive with pet care company Hartz (dad). She recalls reading newspapers and watching the news as she was growing up and says it was at age 14 when she realized she could make a living as a reporter. "I had a crush on a boy whose father was a news anchor," she says. "I was invited to a party at his house, and I spent the entire time talking to his dad about what he did. When I went home, I told my father that I wanted to be a reporter."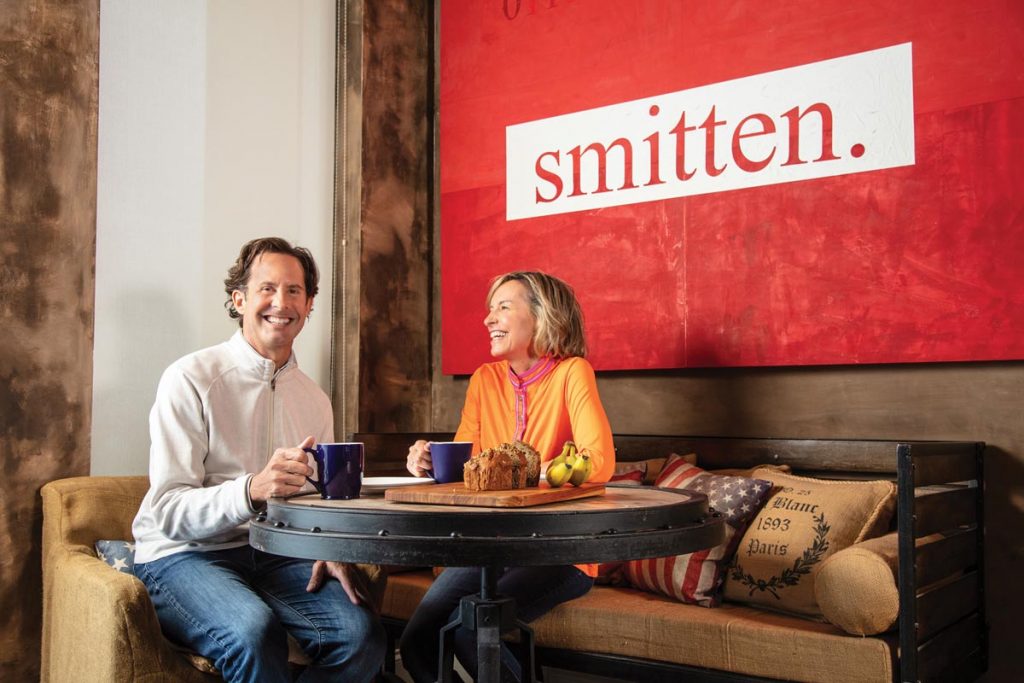 After graduating from Boston University in 1989 with a degree in broadcast journalism, Kaye set her sights on a career in television news. She recalls working with a coach to learn how to read the teleprompter without standing up to follow the scroll, as she once did, and then sending out tapes to local stations where she hoped to land a job. A few offers came—one in Akron, Ohio and another in Binghamton, New York—but she decided to turn down these small-town opportunities and head straight to the Big Apple. She moved to New York City, figuring she would get by on temp work until she could find on-air employment in Manhattan. 
She broke into the industry as a staff assistant on ABC's Nightline before becoming Peter Jennings' assistant on World News Tonight. She covered Bill Clinton's presidential campaign from his home state of Arkansas. In 1992, when she was 25, she went on the air for the very first time, reporting on the Arkansas Game and Fish Commission's bear-tagging effort in western Arkansas's Ouachita Mountains. 
"It was an amazing experience," she recalls of the nonviolent tagging process in which a bear is temporarily tranquilized to allow scientists to perform health monitoring like weighing and blood work, as part of the effort to track and help the animals. "I got to hold bear cubs in my jacket to keep them warm while [scientists] worked on the mama bears."
She spent more than a year working as a reporter and anchor for the ABC affiliate in Little Rock, where she covered the Whitewater investigation, the death of Clinton's mom, and more. Then it was off to Dallas for a stint with Good Morning Texas. After that, it was on to Minneapolis, where she covered Jesse Ventura's run for governor for the city's CBS News affiliate.
It was in Minneapolis that she met her husband, Ross Holland, in 1997. "He had this mysterious air about him," Kaye recalls of first meeting him at a house party. "He didn't come on strong, and he was sort of a challenge to figure out and get to know. I liked that it didn't come easy, though he was interested. He was super cute and just really kind and very funny."
Holland, a real estate investor and also a talented artist, might have played it cool, but he recalls being instantly attracted to Kaye. "I just thought she was adorable and had a great smile," he says. Holland didn't yet know what Kaye did for a living, and she liked it that way. It meant they were able to get to know each other as individuals rather than Holland viewing her solely as a television anchor. They discovered they shared a passion for tennis, among other things, and in 2003, they decided to get married.  
At Gay Head Lighthouse in Martha's Vineyard, they tied the knot—with absolutely zero fanfare. "It was just four people," Holland says. "Randi, me, the guy who married us, and the guy who let us in the lighthouse."
In December 2004, Kaye landed at her current employer, CNN, joining the team as a national correspondent. The newlyweds began splitting their time between New York and Atlanta, where the network is headquartered. At CNN, Kaye covers breaking news and provides in-depth investigative reports for the show Anderson Cooper 360. A self-described true crime buff, she has reported on and hosted CNN documentaries about major stories like the LAPD manhunt for cop killer Christopher Dorner, the Jodi Arias murder trial, and the Boston Marathon bombing. 
When her mother was diagnosed with lung cancer, Kaye began commuting to Florida on weekends to spend time with her in Boca Raton, where she resided. "After she passed away, I moved back to Atlanta," says Kaye. "I soon realized how much I missed the beach and Florida, so Ross and I started looking for a place here. We ended up on Singer Island because it's quiet, and there is the water and some nice restaurants."
They bought a "decorator ready" condo there 10 years ago, which means it was fundamentally a shell and renovation-savvy Holland could make it their own. Holland, who has a knack for interior design, spent a year figuring out exactly what he wanted to do and then got to work designing every detail of their new home. He used Venetian plaster on the walls ("I love the texture," he says) accented with reclaimed barrel oak. He decorated the space with comfortably rustic Restoration Hardware furniture sprinkled with vintage pieces he customized with visual reminders of some of their favorite places. He even designed and created the stunningly unique dining table himself. "We call the design of the residence an amalgam of industrial farmhouse and California beach house," he says. 
On the walls is some of Holland's own artwork. His large, boldly colored paintings incorporate words, numbers, binary code, and geometric shapes—all tools used to
communicate with others and make sense of the world, he explains. A favorite piece hangs in the master bedroom: It's a large, red canvas filled with texture, binary code, and the word "smitten," a none-too-subtle reminder of Holland's affection for his wife, which he gifted her one year for their anniversary.
Both dog lovers, the couple adopted a 1-year-old golden retriever in 2016 they named Gatsby. Their "spunky ball of fluff" quickly became a regular at local haunts like Sailfish Marina and the off-leash park in Juno Beach, where Kaye says he loved to lap up all the attention he got from everyone.
Sadly, at press time, Gatsby passed away unexpectedly at 8 years old—a tragic turn of events that devastated the couple. "Gatsby had a personality that would just make your heart melt," says Kaye. "Some of our best memories are with him."
Without Gatsby, Holland says there was "a big hole" in their life. That's why they made the decision to jump back in and adopt a new golden, whom they named Sunday (their favorite day of the week). Sunday was born blind, but he is adjusting well to his new life with his doting parents—and he is a much-needed blessing for all. "He came into our lives when we needed him," Kaye says. "We just want to give him a ton of love."
Follow Kaye on Instagram at @randikayecnn, and view Holland's artwork at rossholland.com. ϖ
Facebook Comments