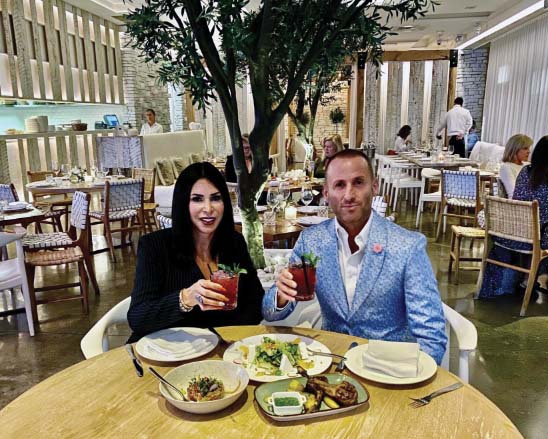 WHO: Serial entrepreneur, philanthropist and "It's a 10 Haircare" founder, owner and CEO Carolyn Aronson
WHAT: The Absolute Elyx "Blew Me Away" cocktail, paired with the fennel salad of shaved fennel, baby arugula, orange segments, manouri cheese, Fresno chili peppers, pine nuts and fennel orange vinaigrette; the tuna tartar of fresh tuna, shallots, baby cucumbers, basil, lime zest, olive oil and white balsamic vinaigrette; and the Australian lamb chops with roasted fingerling potatoes and a mint-thyme sauce.
WHERE: Thasos Greek Taverna, 3330 E. Oakland Park Blvd., Fort Lauderdale, FL 33308 / 954.200.6006 /thasosrestaurant.com / @thasosfl
Being the founder, owner and CEO of one of the only female-owned professional haircare brands on the planet means: I have broken barriers that hopefully will inspire other women to achieve their own dreams. As a Hispanic woman, to have achieved what I have with "It's a 10," an independently owned, worldwide brand, is virtually unheard of. And maybe it will inspire other women to also enter the world of predominantly male-dominated businesses.
Of all the famous and fabulous women around the world who use my haircare products, the celebrity I was most excited to learn is a fan of ours is: both Gabrielle Union and Lebron James' wife Savannah. It solidified for me that, as one of the most colorful brands in the entire industry, our products are not for just any one hair type or ethnicity, they're for all shades of people and all types of hair.
Having a commercial air during the Super Bowl in 2017 with more than 111 million people watching was: absolutely surreal! It was 30 seconds that I had to show the world what "It's A 10 Haircare" stands for, which is to embrace the beauty of all cultures. Our hair is our crown, for both men and women. It truly is a form of our self-expression, a part of our identity. I always say, "If you can't change your life, change your hair!"
Being a guest on ABC's "Good Morning America" this past October for National Love Your Hair Day was: an opportunity to let people know that we actually invented the holiday and had Oct. 10 (10/10) officially and formally designated as "National Love Your Hair Day." During the show, we surprised three extraordinary women that we had flown to New York from around the country after conducting a nationwide search, and awarded each with a $10,000 grant for their inspiring work in their own communities.
Diversity and philanthropy are important to me and my company because: we all have but one lifetime to fulfill. Whether you earn $40,000 a year or $40 million a year, we all can do something to make the world a better place to live.
A Puerto Rican born, self-made, serial entrepreneur with more than two decades of experience as a hairstylist and salon owner, Carolyn Aronson's "It's a 10 Haircare" products have amassed a devoted celebrity and global following, currently selling in more than 25,000 professional independent salons, as well as an additional 15,000 noted professional salon chains worldwide including Regis and Ulta.
Forever a champion of diversity and inclusion, Aronson is a highly regarded philanthropist; devoting her time, talents and resources to numerous causes and charitable foundations, including the creation of Kyana's Dream Foundation, in honor of her daughter. She and husband Jeff currently oversee a vast, successful business empire, including the professional mixed-martial-arts promotion Titan FC. Avid world travelers that enjoy time aboard their own 164-foot luxury mega-yacht "She's a 10," the Aronsons and their four children currently reside in Parkland.
ABOUT THE COCKTAIL:
The Absolute Elyx
"Blew Me Away" 
2 ounces Absolut Elyx vodka
1 ounce blackberry liquor
1 ounce Strega
0.5 ounces lime juice
0.5 ounces blueberry syrup
Combine ingredients with ice in shaker. Shake, strain and serve over fresh crushed ice. Garnish with fresh blueberries and a mint sprig.
Facebook Comments